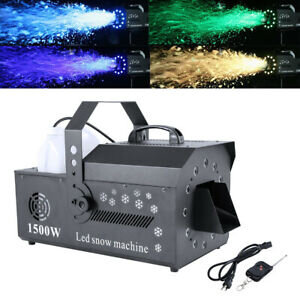 LED Snow Machine




$175.00

Please call to reserve this item

**It comes with one (1) gallon of solution for the machine**
1500w Snow machine- Snow & LED lighting function ,Warm up time: 3-5min
Tank Capacity: 5 L, Control: Manual / Remote / DMX
Handle Bar- portable &convenient, Digital display- Easy to switch modes, It is recommended that you use the product in the direction of the wind. The snowflake effect will be better and the spray distance will be farther.
For Stage snowflake Effect, Party, Show, Event, Celebrate Festival.This Machine has LED lighting, enriching the stage effect.
G.W.: 20.5 Lb, N.W.: 18.5 Lb, Package size: 23.5" x 14" x 14"
DMX channel table
Snowflake spray (snowflake adjustable)
Snowflake spray (working at full capacity)
Red-LED
Green-LED
Blue-LED
Fast and slow flash (brightness is controlled by R, G and B)
LED three-segment functional mode: (10 - 99) gradient, (100 - 199) jump, (200 - 255) Pulse variable
LED multifunction mode speed

Description This is a robust, high pressure, large output LED snow machine that produces abundant amounts of snow with LED light effect that are capable of blowing considerable distances. The durable motor is enclosed in rubber cushions within the case for high output and low vibration. Hanging bracket comes standard for ease of trussing and installation. This model is perfect for club effects, movie sets and stage settings where quiet scenes and lifelike snow effect are demanded. Let the snow fall all season round!

Note: (Do not add too much liquid to avoid the liquid spill out from tank, it will damage the machine)
It is not for producing real snow, works with snow juice/ snow machine fluid.
Specifiction
Voltage: AC 110V / 60Hz
Power: 1500W
Tank Capacity: 5 L
Warm up time: 3-5min
Control: Manual / Remote / DMX
G.W.: 20.5 Lb
N.W.: 18.5 Lb
Package size: 23.5" x 14" x 14"

Remote:
Button A: Spraying sonwflake and LED light (Light auto)
Button B: Only spraying snowflake