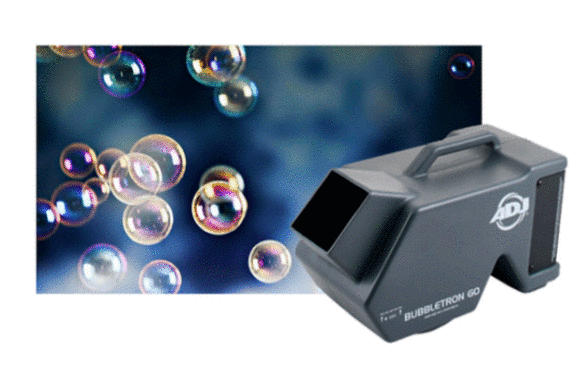 Bubble Machine
**Comes with one gallon of bubbles**
Description:
The ADJ Bubbletron Go is a battery powered bubble machine and is the perfect solution for anyone that wants to create a fun or artistic effect on stage, at a performance or in a park. It's very easy to use - as easy as pour in the bubbles and turn it on! Bubbletron Go creates 100's of bubbles per minute from a high velocity, high out put fan. It takes most types of bubble liquids. This portable and lightweight bubble machine has a lightweight yet durable housing and includes a wireless On/Off remote. Bubbletron Go is great for bands, mobile entertainers, clubs, bars and small to medium size stages.
• Portable high output bubble machine
• Creates hundreds of bubbles per minute
• Durable plastic casing with EZ-Access front fluid tank
• 1 Liter Fluid Tank
• Large high velocity fan makes bubbles rise quickly in the air
• ON/OFF switch on rear of unit
• ON/OFF Wireless remote controller BUBGO-WR included
• Carrying handle
• Most types of bubble liquid acceptable
• Power Consumption: 17W
• Fluid Consumption Rate: 1 Liter every 50 Mins
• Battery life indicator with charge indicator
• Battery Charge Time: 6 Hours (Per Cycle)
• Battery Life: 5 Hours (Full On)
• (Charger): DC12V 1000mA
• Dimensions (LxWxH): 13.75" x 7" x 8.25" / 352 x 176 x 209mm
• Weight: 4 lbs. / 2kg.
Battery Specifications:
Battery Charge Time: 6 Hours
Battery Life: 5 Hours Full On(Full Charge)
Battery Lifetime: Average Lifetime is 500 Charges (This depends on charging frequency)
Battery Type: Fixed Lithium Battery
Battery Energy: 4WH (Watt Hours)
Battery Weight: 260g
Battery Voltage: 3.7V
Battery Capacity: 4Ah
Total Lithium Ion Cells: 3pcs